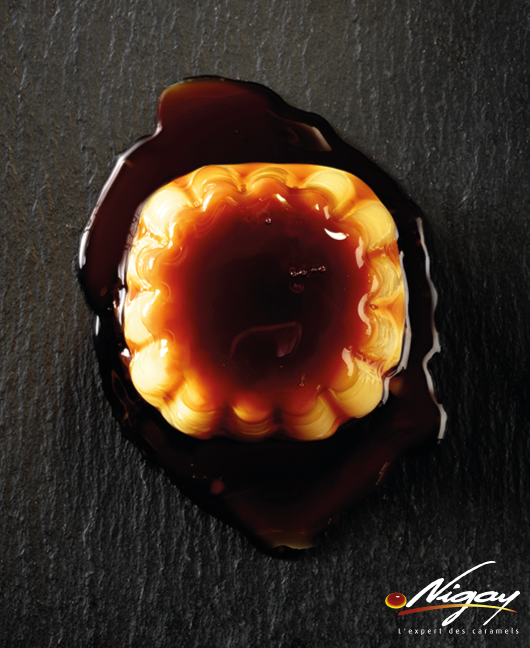 Dairy

products
OUR LATEST INNOVATIONS
Nigay, the art and science of caramelization
Nigay is a company of passionate people with an expertise in all sorts of caramels. Our team is constantly innovating and works to answer economic, environmental and societal challenges of the food-processing industry.
Since 1855, Nigay has proudly claimed its roots and passed on his passion for caramel. For our experts, each of your project is a new caramelized challenge that brings even more taste, colour and texture! Looking for a colouring power or a caramelized signature (in various forms: liquid, filling, powder or caramel pieces) for your finished product? We sure have what you need. Thanks to a specific center dedicated to innovation and a specialized one for the improvement of the knowledge of caramel molecules, our R&D team works on a new development every 3 days.
FOR YOUR DAIRY PRODUCTS
> Thickened aromatic caramels range:
In 1985, Henri Nigay, representing the 5th generation of its family, has developed the thickened aromatic caramels for dairy products. Thickeners help maintain the segregation between the caramel layer and the dessert by preventing the migration of whey from the dairy component into the caramel and the diffusion of colour, aroma and sugars from the caramel into the dairy component. Thickeners also improve mouthfeel and pourability.
THE SUSTAINABLE FOOD-PROCESSING INDUSTRY
Consumers become actors of their own consumption and their well-being. They are attentive to their diet.
> In this trend, we have developed a new organic caramel with salted butter. With its short texture, you can use it in the mass or as double-layered.
> Vegan special! Our caramel sauce made with coconut milk is lactose free, soy free and palm free. This versatile caramel can be used in the mass, as double-layered or as caramel center.
> Last but not least, our pure sugar thickened aromatic caramel, without flavouring and caramelization promoter is "clean & clear labelling". It is perfect to be used as double-layered (custards, frozen dairy products, etc.)
SENSORY JOURNEY
Nigay offers ingredients from far or close horizons to awaken our taste buds and discover new flavours.
> To complete the range of our fruity salted butter caramels, new versions are available: ginger, passion fruit, yuzu and apple. They are all "Clean&Clear Labelling". Those caramels can provide a specificity for premium creation and limited editions. You will be seduced by their smooth and creamy texture that recalls the good taste of childhood candies. They will bring a real signature to your dairy products and ice creams.
> New textures for new sensations! Use our CARADROP for a DO IT YOURSELF application. The consumer brings its final touch by sprinkling its dessert with soft caramel pieces. The CARADROP pieces come in a unique drop design and they are coated with cocoa butter. They will be the perfect addition to all types of yoghurts.
DO YOU NEED TO CHEER UP? WARM NOTES ARE TRENDING!

> Chocolate, coffee, vanilla and caramel are unalterable standards! The salty caramel aroma is one of the winning tastes, thus Nigay offers a perfect salted caramel to be used in the mass of dairy products and ice creams.
Step in our caramelized world for culinary innovations on: www.cuisinezcaramel.com